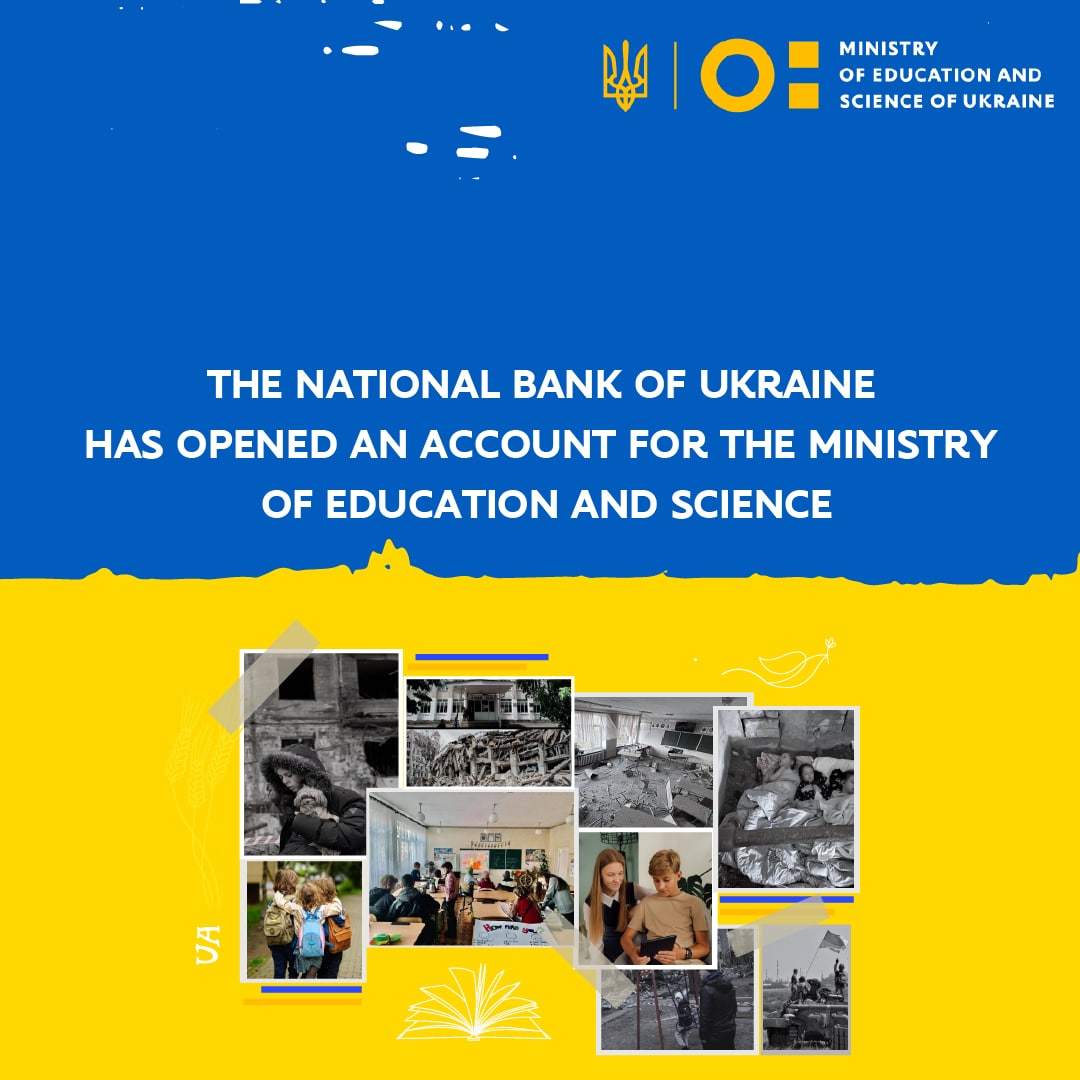 Photo by the press service of the Ministry of Education and Science of Ukraine
Since the beginning of the full-scale russian invasion of Ukraine, more than 2,000 educational institutions have been damaged and destroyed, and the material and technical base has also been mutilated.
In addition to the global need to restore institutions and establishments from the effects of russian aggression, the priority needs are teaching means, computer and other equipment, software, school buses, educational programs and tools.
We strive not only to renovate Ukraine's educational infrastructure, but also to create ultra-modern institutions that will provide decent conditions for the development of the younger generation and the acquisition of quality education at the level of the world standards.
As part of the initiative of President Volodymyr Zelensky United24, the National Bank of Ukraine has opened an account for the Ministry of Education and Science, this step will help to solve urgent problems in the area. Donations can be made in national and foreign currency (US dollars, euros, pounds sterling).
We address Ukrainian patrons, international partners, as well as all concerned to support the field of education and science.
Payment details (UAH)

BENEFICIARY: Ministry of Education and Science of Ukraine
EDRPOU (National State Registry of Ukrainian Enterprises and Organizations): 38621185
BANK OF BENEFICIARY: National Bank of Ukraine
IBAN: №UA223000010000032303338601027
Payment details (USD)

BENEFICIARY: Ministry of Education and Science of Ukraine
BENEFICIARY BANK BIC: NBUA UA UX
BENEFICIARY ADDRESS: 10, Peremogy str., Kyiv, 01135, Ukraine
ACCOUNT NUMBER: 8901616532
CORRESPONDENT BANK BIC: IRVT US 3N
CORRESPONDENT BANK NAME: BANK OF NEW YORK MELLON, New York
CORRESPONDENT BANK ADDRESS: One Wall Street, New York, NY 10286, USA
PURPOSE OF PAYMENT: for acc: 32303338601027
Payment details (EUR)

BENEFICIARY: Ministry of Education and Science of Ukraine
BENEFICIARY BANK BIC: NBUA UA UX
BENEFICIARY ADDRESS: 10, Peremogy str., Kyiv, 01135, Ukraine
ACCOUNT NUMBER: 5040040066
IBAN: DE05504000005040040066
CORRESPONDENT BANK NAME: DEUTSCHE BUNDESBANK, Frankfurt
SWIFT-code: MARK DE FF
CORRESPONDENT BANK ADDRESS: Wilhelm-Epstein-Straße 14, 60431 Frankfurt Am Main
PURPOSE OF PAYMENT: for acc: 32303338601027
Payment details (GBP)

BENEFICIARY: Ministry of Education and Science of Ukraine
BENEFICIARY BANK BIC: NBUA UAUX
BENEFICIARY ADDRESS: 10, Peremogy str., Kyiv, 01135, Ukraine
ACCOUNT NUMBER: 0080033041
IBAN: GB52CHAS60924280033041
CORRESPONDENT BANK NAME: JP MORGAN CHASE BANK NA, London
CORRESPONDENT BANK BIC: CHAS GB 2L
SORT CODE: 60-92-42
CORRESPONDENT BANK ADDRESS: 125 London Wall, London EC2Y 5AJ, UK
PURPOSE OF PAYMENT: for acc: 32303338601027